Fire Prevention
The best way to fight fires is by preventing them!
Smoke and carbon monoxide alarms
Smoke and carbon monoxide alarms in your home.
Smoke alarms
Seconds count in a fire. Give your family the best head a start and make sure you have smoke alarms installed as required by law - smoke alarms must be installed on every level of your home and outside of all sleeping areas. For added protection, install smoke alarms inside every bedroom.
For more information on smoke alarms visit the Ontario Association of Fire Chiefs' Smoke Alarms webpage.
Carbon monoxide (CO) alarms
Carbon monoxide is a colourless, odourless, tasteless and toxic gas. CO is often referred to as a "silent killer" since it cannot be detected without an alarm. CO alarms are required outside all sleeping areas if you have a fuel burning appliance in your home or an attached garage.
For more information on carbon monoxide visit the TSSA's CO Safety website.
Where does CO come from and what are fuel burning appliances?
Carbon monoxide is produced by incomplete burning of fuels such as:
Wood
Propane
Natural Gas
Heating Oil
Coal
Kerosene
Charcoal
Gasoline
Any appliance, equipment or vehicle that uses one of these fuels can create CO. Fuel burning appliances can include (but are not limited to):
wood or gas burning stoves
gas refrigerators
gasoline engines (such as vehicles or generators)
kerosene heaters
gas water heaters
gas dryers
Woodstove ashes can remain hot for a long time, which makes them both a fire hazard and a CO hazard. If you burn wood in your home, make sure the ash bucket is made of a non-combustible material and is kept outside, away from the house and anything else that could catch fire.
All of your fuel burning appliances must be maintained on a regular basis. A qualified service professional should inspect all of your appliances at least once a year.
Smoke and carbon monoxide alarms expire.
Is your smoke or CO alarm celebrating its 10th year in your home? It's time to replace it!
Check the back of your alarms for the manufacture date. Many alarms expire after 10 years, but some may expire before that so check with the manufacturer if you aren't sure when the alarm expires. Replace any alarms that have expired.
Once you've checked the date, test the alarm. All alarms in your home should be tested monthly by pressing the test button.
Fire safety education for the whole family
Family-friendly links to "Learn the Sounds of Fire Safety"
The 2021 Fire Prevention Week theme was "Learn the Sounds of Fire Safety." To learn more please visit the National Fire Protection Association's website as well as these family friendly links:

For more videos, games and activities for kids please visit sparky.org.

For the teenagers and their parents, the video No Time to Spare shows the dramatic difference having working smoke alarms makes, the importance of fire prevention, home escape planning and how quickly a fire can escalate in a home.
2021 Fire Prevention Week poster contest winner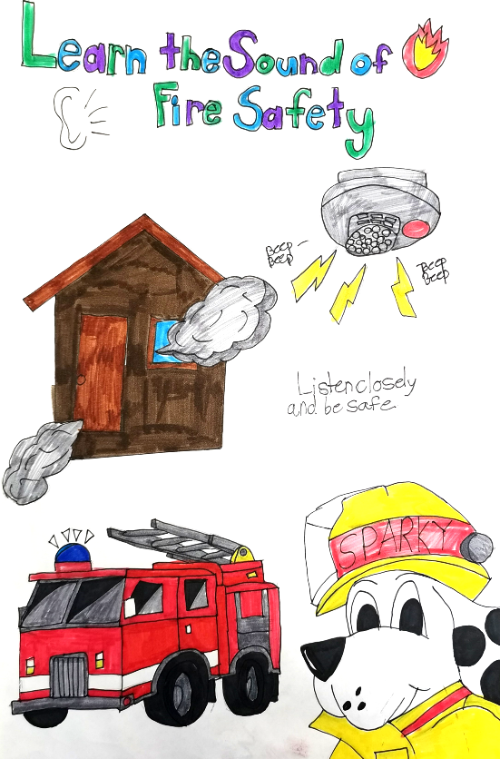 Douro-Dummer Fire Services held a poster contest that encouraged students 12 years of age and older from Warsaw Public School and St. Joseph's Catholic Elementary School to create a poster with this year's Fire Prevention Week theme in mind: Learn the Sounds of Fire Safety.

The winner, a student from St. Joseph's Catholic Elementary School, received a prize package that included $100 worth of gift certificates from Lansdowne Place! Thank you to the Douro-Dummer Firefighters' Association for donating the prize.
To see all the entries visit the our Twitter profile!
If you have any questions about anything related to the fire prevention or would like to request a home inspection please don't hesitate to contact us!